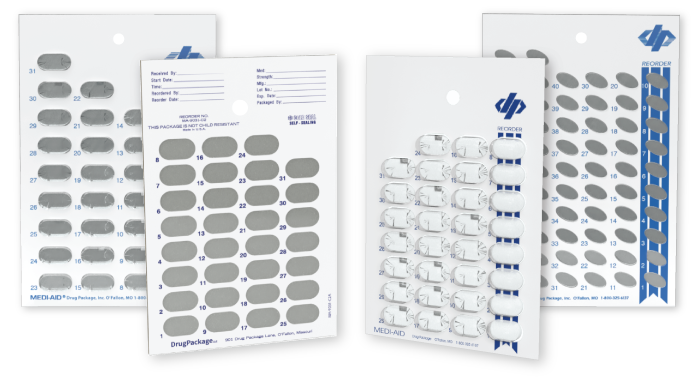 Wholesale Medication Blister Cards
Leverage cost efficiencies and operational flexibility with pillcards.com wholesale medication blister cards. Purchase single-dose, multiple-dose, and SynMed®-compatible medication blister packs in wholesale quantities at bulk pricing. Improve your inventory management by taking advantage of pillcards.com In-house storage plans.
Pharmacy Logo Medication Blister Cards
Promote your pharmacy and enhance visibility with your pharmacy logo on medication blister packs. Pillcards.com's dedicated team utilizes graphic design tools to develop professional branding, including your pharmacy logo and contact information. Pharmacy logo imprinting is available for all order quantities.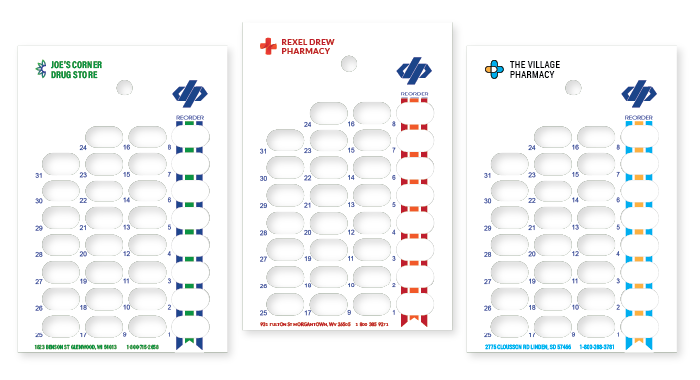 Pillcards.com provides high-quality blister pill pack solutions, innovated by Drug Package, the industry leader in pharmacy supplies for over 50 years. Drug Package's pharmacy packaging expertise transforms daily medication management for long-term healthcare and home health care. Pillcards.com offers a one-stop-shop experience for pharmacists, caregivers, and care receivers, meeting the demand for easy-to-use and easy-to-administer medication blister cards.
Shop a wide variety of single-dose or multiple-dose, and cold seal or heat seal medication blister packs to accommodate a range of pill counts and sizes. For pharmacists, pillcards.com's medication blister cards are compatible with SynMed® Systems' automated dispensing system, expediting prescription filling time and streamlining pharmacy workflow.
Complete the form below to order wholesale or imprint your pharmacy logo on your pill cards.